Travel, Accomodation and Venue info
June is full of events in Pisa, including the Saint Patron's festivities (San Ranieri) with the Luminara on the night of June 16 (see picture). Book in advance and if you can, plan to stay in Pisa for the night of the 16. It is a lot of confusion, but absolutely worth it!

Venue
The conference will be hosted in the Aula magna of the Scuola Superiore S. Anna, piazza Martiri della Liberta, 33, Pisa.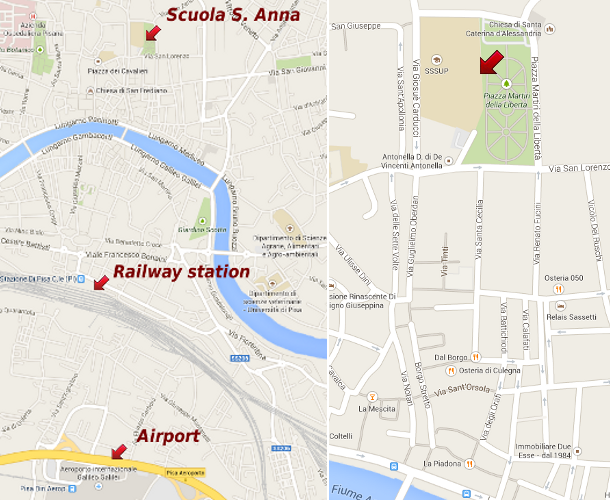 The Scuola can be easily reached from the airport or the railway station (in the above map, on the left side, it is approx 1cm=150mt).
Once you are in the surroundings, the entrance is from Piazza Martiri della Liberta.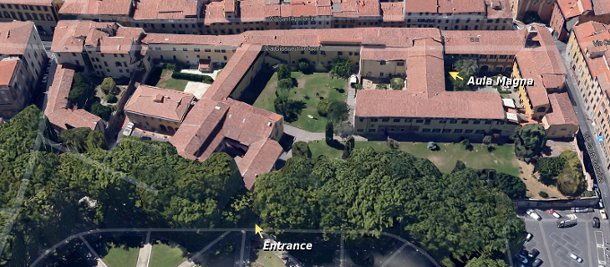 The conference sessions will be in the Aula Magna.
Travel

Pisa has a large international airport. For info click here.
The trenitalia web site (train tickets) can be found here.
You can find detailed travel info on how to get to Pisa and the Scuola here.

Accomodation

Some hotels gave a prearranged rate for conference attendees, but there is no reserved block of rooms. Therefore, please book as soon as you know that you will be attending the conference. Also, you can may want to check availability and alternate rates on Booking.com or by directly calling the Hotels.

Here is a list of recommended Hotels (the map shows the location) with the agreed rates (when available). As a general rule, newer (and somewhat better) hotels are farther from the city center (as usual, you trade vicinity to attractions/city life for more modern/fancier rooms).

All rates are in euros, S is a single room - DS is a double room for a single guest - D is a double room with 2 guests - T is a triple room - B means breakfast included - BN breakfast not included. Please note, all Hotels will charge an additional 2 euros per person/night for local taxes.

Abitalia Tower Plaza ***** - Via Caduti del Lavoro, 46 - +39 050 784 6444 - www.abitaliatowerplaza.it
Rates (B) DS 140.00 D 160.00, T 190.00

Hotel Galilei **** - Via Darsena, 1 - +39 050 507111 - www.hotelgalileipisa.it
Rates (B) DS 75.00, D 95.00, T 115.00 - (shuttle form airport available - cost 15 euro)

Hotel Verdi *** - Piazza della Repubblica, 5 - +39 050 598947 - www.verdihotel.it
Rates (B) S 50.00, DS 65.00, D 85.00, T 95.00


Grand Hotel Duomo **** - Via Santa Maria 94 - +39 050 561894 - www.grandhotelduomo.it
Rates (B) S 105.00, DS 135.00, D 159.00, T 189.00

Hotel Repubblica Marinara **** - Via Carlo Matteucci, 81 - +39 050 387 0100 - www.hotelrepubblicamarinara.it
Rates (B) DS 71.00, D 81.00


AC Hotel Marriott **** - Via delle Torri, 20 - +39 050 575395 - www.marriott.it/AcHotelPisaByMarriott
Rates (B) DS 92.00, D 102.00


Royal Victoria Hotel**** - 12 lungarno Pacinotti - +39 050 940111 - http://www.royalvictoria.it
Rates (B) DS 93.00, D 93.00 (ask for air conditioning!)


You can also get an excellent deal from one of the many Bed and Breakfast places in the city.

-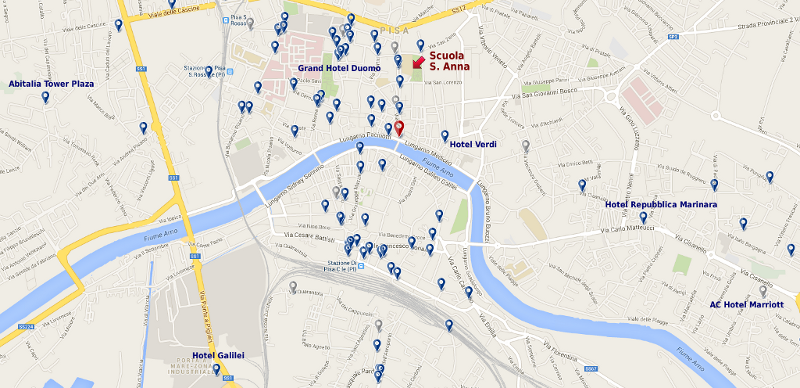 A presentation with additional Travel tips
This presentation was shown at SIES 2013 in Porto to introduce Pisa with some travel tips (and a lot of stereotypes). Most pictures inside it are taken from the web. Even if I believe they can be used free of charge, I do not own them, please do not distribute.
click here for the ppt